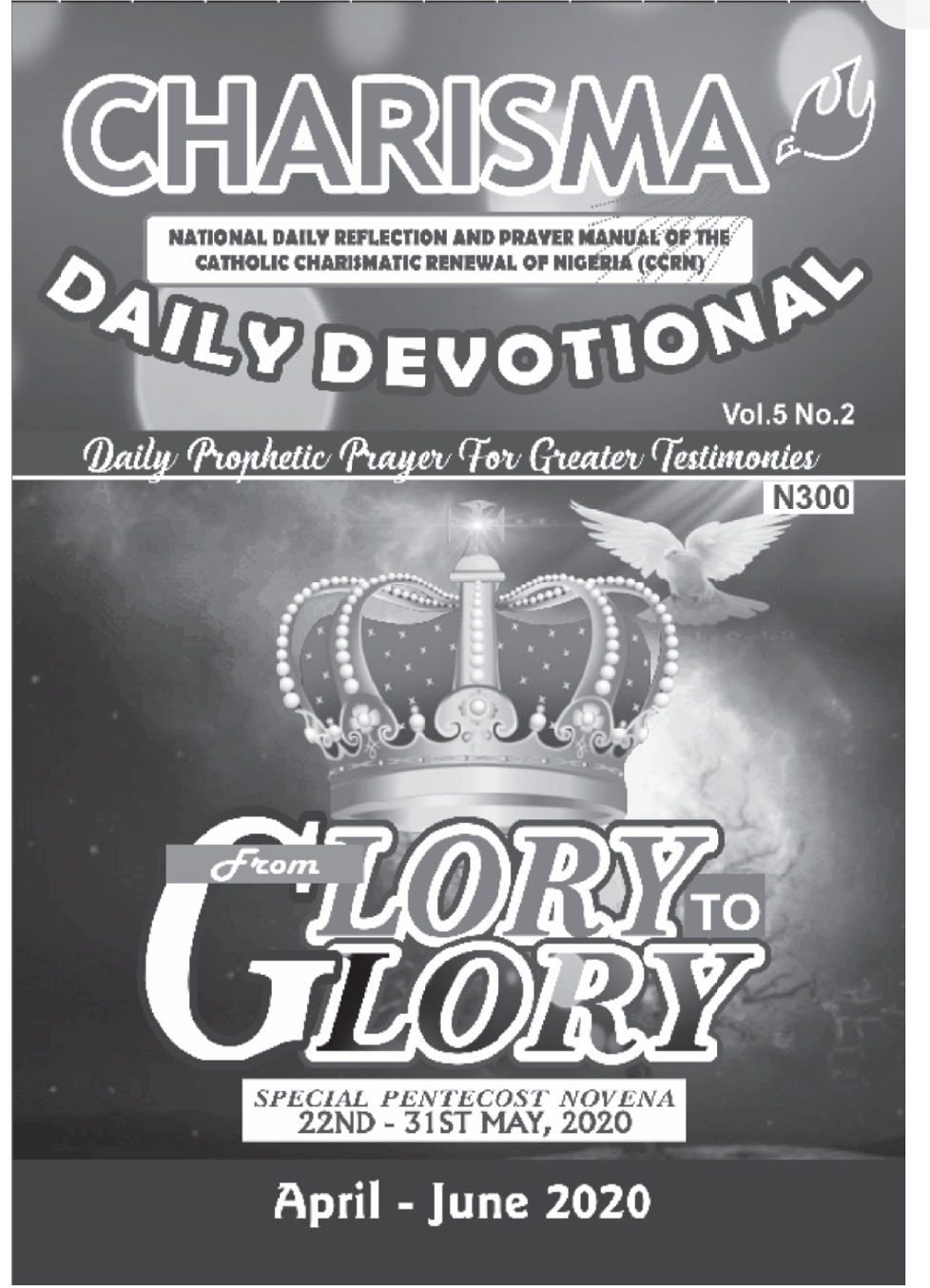 Publication File
CHARISMA DAILY DEVOTIONAL 26TH JUNE 2020.pdf
CHARISMA DAILY DEVOTIONAL 26TH JUNE 2020
CHARISMA DAILY DEVOTIONAL
FRIDAY 26TH JUNE 2020
COME OUT OF DEFEAT  
Scriptural Reading: 1 John 5:4
No child of God is born to be defeated. God designed us to be victorious in life. We are to defeat our enemies because we have complete victory in Christ Jesus. Whenever you are in a state of defeat, all you need to do is hold onto the word of God. This will surely provide a way out of your defeat. God said to Joshua that as long as he meditated on his laws and did not turn away from them but obeyed all that was written in them, he would prosper in all his ways.
Your defeat may be as a result of turning away from God's word, disobedience to his command or ignorance of what you should do. If you are born of God, victory is yours. This is not negotiable because it has been settled on the cross of Calvary. "Thanks be to God who has given us victory in Christ Jesus'' (1Cor 15:57). Do not accept defeat whether physical or spiritual; rise from your defeat and step into victory.
MEDITATION:
In what areas of your life are you defeated? What are you doing to come out of that defeat?
STRATEGIC PRAYER POINTS:
1. I reject all manners of defeat in my life and family.
2. Father, let your word redirect my life.
3. I claim victory in all areas of my life.
4. Pray for the church and her leaders, the Catholic Charismatic Renewal of Nigeria at prayer group, deanery, diocesan, provincial and national levels.
5. Present your private intentions to God
6. Say your daily Prophetic prayer
7. Pray now against the spread of the Corona Virus Pandemic.
8. Say the prayers to St Michael and St Jude
DAILY PROPHETIC PRAYERS
Oh Lord God of power and might we praise and thank you for your goodness and mercy in my life. I acknowledge that you are the only one true God and the Almighty who can do all things, who knows all things and who is everywhere at the same time.
I beseech you, Lord, to show me your mercy and forgiveness, I have sinned against you through my thoughts, words, and actions. Through your sacrificial death on the cross, I receive mercy and boldness to approach your throne of grace.
Let the precious blood of Jesus wash me and make me whiter than snow. Heal me oh Lord by your wounds that I may be restored.
I receive your Grace to rise above every limitation.
I receive your Grace to move from Glory to Glory. I proclaim my total freedom in the mighty name of Jesus.
I shall testify the goodness of God in the land of the living in the most powerful name of Jesus.
I shall not die but live to declare the goodness of God I shall not be put to shame for the Lord is by my side. I shall glorify the Lord all the days of my life.
PRAYER TO ST MICHAEL THE ARCHANGEL AGAINST THE FORCES BEHIND COVID - 19.
Holy Michael, the Archangel, defend us in battle. Be our safeguard against the wickedness and snares of the devil. May God rebukes him, we humbly pray, and do you, O Prince of the heavenly host, by the power of God cast into hell Satan and all the evil spirits who wander through the world seeking the ruin of souls. Amen.
WE PRAY WITH ST JUDE THE PATRON OF DIFFICULT CASES AGAINST THE SPREAD OF CORONA VIRUS
O most holy apostle, Saint Jude, faithful servant and friend of Jesus, the Church honoureth and invoketh thee universally, as the patron of hopeless cases, and things almost despaired of.
Pray for me, who am so miserable. Make use, I implore thee, of that particular privilege accorded to thee, to bring visible and speedy help where help was almost despaired of.
Come to mine assistance in this great need, that I may receive the consolation and succour of Heaven in all my necessities, tribulations, and sufferings, particularly...
(insert your prayer request here, especially  the menace of COVID - 19 Pandemic)
...and that I may praise God with thee and all the elect throughout eternity.
I promise thee, O blessed Jude, to be ever mindful of this great favour, to always honour thee as my special and powerful patron, and to gratefully encourage devotion to thee. Amen.